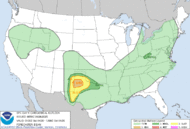 Here's the severe weather outlooks for the next 3 days (today, tomorrow and Sunday, as I write this Fri. noon). We now have an Enhanced Risk area for parts of AK, TX, LA.  Severe storms are likely in the yellow Slight Risk Area. The Plains have been dry and can use the rain. Hopefully, no lighting induced wildfires. The severe storms the next several days should stay south and west of Michigan, though a non-severe t-storm is possible.
Thunderstorms with hail moved from Nebraska to Lake Michigan Thurs. evening.   The storms continued into Michigan, but without the hail problems.  We tracked one storm that formed in NE Nebraska and produced hail for most of it's 500 mile journey to central Lake Michigan.  Hail was as big as eggs at one point in Iowa, but has been mostly pea-marble size (below severe criteria) in E. Wisconsin.  The storm did produce enough hail to cover the ground near Racine WI, cause an accident and result in lane closures on I-94/US 41 near Racine.  362 without power in Kent Co. at 12:30 am are pretty much back on now.
You can see the one storm that had a continuous path of producing large hail.  Each green dot on this map is a hail report 1″ in diameter or more with the black dot a report of 2″ diameter hail.  This storm came onshore in SW Allegan Co.   To report hail or strong winds to Storm Team 8, call 1-800-8WOODTV or email at newsroom@woodtv.com.   I'm at bill.steffen@woodtv.com.  I've been tweeting at @bsteffen.
Also, there was a rather amazing 124-degree temp. difference from highest in the U.S. Weds. PM (104 in Rio Grande"Village TX) to the lowest in the U.S. this AM (-20 at Saranac Lake NY).  We're down to 12.6% of the U.S. with a snowcover Thurs. AM.  Snow in MI Thurs. AM:  29″ Grand Marais, 20″ Painesdale, 18′ Munising, 12″ S. Ste. Marie, 11″ Champion, 8″ Marquette (airport – hardly anything in the city), 5″ Gladstone, 1″ Gaylord.  I don't think we've seen our last snowflakes of the season, though I don't see any significant snow anytime soon.  Check out the snowman cam at Twin Lakes in the U.P.  The Whitecaps open in two weeks.  The 8-day forecast takes us to the end of March.
Michigan sooooooo close…loses by a point.  Purdue lost…Wisconsin has to beat Florida Fri. evening (late game) to keep the Big Ten in ballgame.