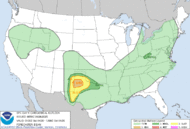 These are the Severe Weather Outlook maps for today (Fri.), tomorrow (Sat.) and the next day (Sun.).  We'll stay dry today, but the chance of severe weather will increasing late Fri. night (after midnight) into Saturday.  Today, there is an Enhanced Risk Area (in orange) that runs from the eastern Dakotas to southern Wisconsin and far northern Illinois.  Surrounding that is a Slight Risk Area (in yellow) that is west of a line from Whitehall to Coldwater.  The rest of our area is in the Marginal Risk Area.  Again, we'll stay dry today with our risk coming after sunset (probably after midnight).  SPC says:  "…Northern Plains across the Upper MS Valley and toward Lake Michigan…development is possible after 2 pm across central MN into western WI.  Mesoscale Convective Complex potential, with subsequent southeastward motion and attendant damaging wind threat."
Saturday, the Slight Risk Area (in yellow) covers everyone south of a line from Ludington to Port Huron.  SPC says:  "A large area of convection is forecast to be ongoing over the southern Great Lakes area and vicinity early in the period…new storm development is forecast on the southern and western flank of this convection, as afternoon heating…Multiple bands/clusters of storms will likely traverse the area through the afternoon and evening…risk for damaging winds and hail will exist with stronger storms/storm clusters moving quickly east-southeast across the region."
Regional and local radar maps should update automatically.
Overnight model data:  The GFS is warmer than the NAM.  The high temps. for the next 3 days for G.R. on the NAM are 88, 80 and 77.  On the GFS we get 94, 88, 86.  The GFS chance of rain is 69% tonight, 67% on Saturday.  The NAM has 86% tonight and 61% for Saturday.
Also:  Wildfire burns 1,000 acres in New Jersey.  California fire officials say a wildfire west of Yosemite National Park has destroyed 99 structures, 45 of them homes.
A survey carried out on behalf of the John Muir Trust (JMT) found that 55% of respondents were "less likely" to venture into areas of the countryside industrialized by giant wind turbines, electricity pylons and super-quarries, reports The Times ).Just 3% said they were "more likely" to visit such areas, while 26% said such large-scale developments would make "no difference".