<![CDATA[
I've long since gotten over the compulsion to create personal top ten lists for a given year. Invariably there's something I missed, too many ties, or simply too few pieces of merit, resulting in a so-so bottom of said list. That said, 2013 had so many great comics that I rather felt compelled to write at least something about them. For me, it was a year filled with Image Comics and Marvel.

It's already been well-established elsewhere - many elsewheres, in fact - that Image is in its second heyday. 2013's most outstanding contributions included plenty of sci-fi (Saga, Prophet, Lazarus, East of West, Manhattan Projects, Zero), a bit of noir, in both the spy (Velvet) and horror (Fatale) veins, one western fable (Pretty Deadly), one account of the early days of television (Satellite Sam), and a good ol' fantasy/sex comedy (Sex Criminals, duh). Thanks to this line up, we are treated to a steady stream of books packed with more innovation in a single issue - in some cases, in a single page - than most other series exhibit in their complete run.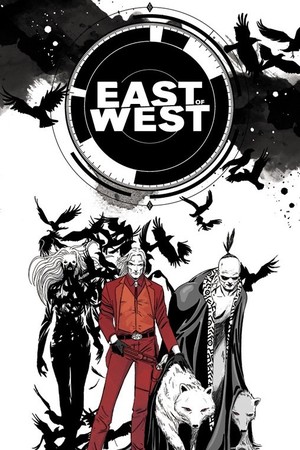 I can envision plenty of wannabe comic storytellers deciding they should just hang it up after reading an issue of Brian K. Vaughan & Fiona Staples' Saga, Brandon Graham's Prophet, Greg Rucka & Michael Lark's Lazarus, or Jonathan Hickman & Nick Dragotta's East of West. But I'm more excited by the notion that these works are instead inspiring a new generation of comic creators. These are the books that people will point back to, the Velvet Undergrounds that spawned new movements. I'm very curious to see what people will ultimately take away from Matt Fraction's Sex Criminals (w/Chip Zdarsky) and Satellite Sam (w/Howard Chaykin). Will we have more attempts at raunchy humor? Or, just plain ol' raunch? I'm hoping folks go less literal, borrowing the meta-surrealism from the former - the Queen sing-a-long in the pool hall is just one highlight - and the mature ensemble drama from the latter.
And I certainly cannot use the term "surreal" without giving the nod to Kelly Sue Deconnick & Emma Rios' Pretty Deadly. It's possibly the most fluid and ethereal storytelling to hit comics since Sandman went away (and came back). Oh, and I mentioned "ensemble". Well, how about Hickman & Nick Pitarra's Manhattan Projects. A massive list of characters, some VERY loosely based on historical figures, some from other planets, others from other dimensions. And it's funny. Damn funny. You know who's generally not funny? Ed Brubaker. I mean, the man himself, he's a hoot. But, Christ, his books….  Fatale (w/Sean Phillips) and Velvet (w/Steve Epting) are bloody dark. Brilliant and beautiful and entertaining - but pitch black. And that helps them to stand out in such a phenomenal crowd. So much so that Brubaker and Phillips have recently inked a deal where Image will publish whatever the two decide to put out for the next five years. No questions asked. Unheard of. And - possibly - the next great step in independent publishing.
Perhaps not as well covered as Image's year - or, maybe I'm in the minority, which is fine - Marvel Comics turned out some great and dare-I-say revolutionary books in 2013. Kieron Gillen and Jamie McKelvie's Young Avengers was lightning in a bottle, a pop song love letter to teenagers of the 21st century - with at least one head-slapping page of novel artwork each issue.
And I cannot mention Young Avengers without tipping my hat to Hickman's bold run on both Avengers and New Avengers. The latter was - and continues to be - arguably my favorite Marvel title. Hickman's telling of two seemingly distinct cosmic tales that sloooowly dovetail into one another - it's a master's course in juggling related books for a major publisher. A big thumbs up to him for Infinity as well, with MVP going to Thor - particularly for the longest Mjolnir throw in recent memory. Hard to talk about Marvel and not mention Brian Bendis. While waiting in line at Image Expo a couple weeks back, two guys behind me were SLAMMING him for "ruining" the X-books. Bully for Bendis for being so polarizing. Uncanny X-Men and All New X-Men are fun, full of vitality, and give him room to run in all directions with so many characters, both old and new. And his reinvention of Magneto - no longer a villain, but in no way a hero - fills me with great anticipation for Cullen Bunn's solo title.
And speaking of "polarizing", it's well-publicized that Dan Slott received death threats for "what he did" to Peter Parker and Otto Octavius in Superior Spider-Man. This was perhaps the most daring move by one of the Big Two in recent memory, taking the cliche of the hero-villain brain-swap and turning it into a year-long, bi-weekly tragedy. Yes, tragedy. We're watching the former Doc Ock - possessing Peter Parker's body, yet possessed of Parker's need to do good - slowly succumb to his own ego, slowly fall into old habits, from acquiring a secret lair to hiring a bunch of Spider-Goons. Surprising no one, Peter's on his way back. Truth be told, I'll be sorry to see Otto go. Last but not least, there's once again our Mr. Fraction and a little book called Hawkeye. It's novel, inventive, and fun. But, you already know that.
For reasons I won't get into here, I don't read much of DC these days. I did, however, gobble up Grant Morrison's Batman finale in Batman, Inc. How long was it? Seven years? He wrote a Batman epic. And while he worked with a lengthy list of top-tier talent over the years, I gotta give it to Chris Burnham. Some of those issues he drew - Hell, some of the panels - they contain ins
Finally, I came late to the Copra party. If you don't know about Michel Fiffe's 12-issue serenade to John Ostrander's run on DC's Suicide Squad, then you owe it to yourself to seek it out. In fact, the story and the characters are much more than that. Fiffe is a force to revered - so much so that Marvel recently tapped him to take on some writing duties for their Ultimate universe relaunch. He is the self-publisher's self-publisher. He did it ALL. He handled the writing, illustrating, and lettering. Nothing new there, plenty have been doing as much for years. But he also tackled the printing and the self-distribution, via his Etsy store, a handful of conventions, and direct solicitation of comic shops. Okay, there are those diligent self-pubbers out there who can say the same. Here's Fiffe's coup de grace - He did it all on a monthly schedule. That's right. Twelve issues in twelve months. Bow to him. Now.

As I said, I good year for comics all around. And with most of these titles continuing into this (still) new year - and more promising books on the way - 2014 looks to match 2013. Might we be so lucky…?

]]>